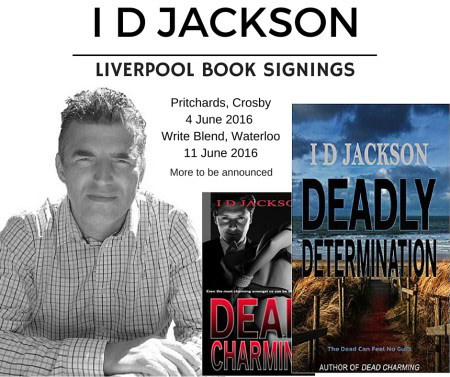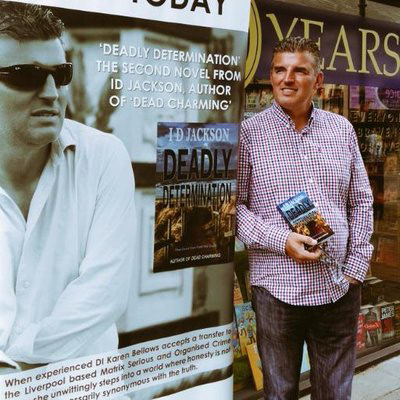 As PR and Editorial Assistant for author I D Jackson, I organised a book signing tour across Liverpool  to celebrate the release of 'Deadly Determination.' This took place at several independent and chain book stores including WHSmith and Waterstones Liverpool One, Pritchards independent bookshop in Crosby, among others. I handled all press and public relations including sending press releases and invitations to press, reading and writing groups, and the Liverpool Crime Writers Association to name a few targeted audiences; managing the entire online presence including developing and posting website content and managing social media.  I created all graphic marketing material, signage and coordinated the production of these. I dedicated every other Saturday to events, which were my duty to organise/confirm beforehand, where I would direct customers and troubleshoot practical issues to ensure the smooth running of the day.
Please see below an example press release from summer 2016,
followed by a social media graphic and an article published by Nerve Magazine ahead of a stand alone event:
"One of the biggest compliments... is its portrayal of Liverpool."
Liverpool born author Ian D Jackson, who has enjoyed success with his first book Dead Charming, is embarking on a tour of Liverpool book signings this summer with his latest instalment 'Deadly Determination.' Inspired by the city of Liverpool and his deep interest in crime and psychology, the book plunges the reader into a dark and twisted tale of murder suspense. Set in the city, it follows Detective Karen Bellows' investigation of a brutal crime.
The first signing will be at Pritchards of Crosby at 12 noon until 3pm on June 4th, followed the next weekend on June 11th by Write Blend in Waterloo, where Ian will be from 2pm until 4pm. Further dates and locations are to be announced.
His debut novel, Dead Charming received outstanding reviews and both books are now sold globally. This year, devoted readers have nominated Ian for a People's Books Prize for the second year running, after a slew of support from Liverpool readers.
5 star reviews toast the writer, exclaiming:
"A BRILLIANT second instalment from this new author... Perhaps one of the biggest compliments I can pay this book is its portrayal of Liverpool." (Tom Jacks)

" Set in and around Liverpool, a city I know well, the descriptions of the buildings and area were very true to life... a superb thriller." (Jackie Roche)
"I really loved this, his second book. Good characters, good story, twists and turns. It was made more real to me, as my son lived just off Hope Street, Liverpool, where some of the key scenes take place." (Martyn Morgan)
"It's also good to hear of a British author on the climb towards major success... Characters could easily be residents of Liverpool, today." (Tim Collins)
(all reviews of Deadly Determination via Goodreads)
Ian has previously had successful signings all over Merseyside and loves engaging with readers and those who share his crime writing enthusiasm. Readers in Cheshire, Lancashire, North Wales and as far as Edinburgh, Glasgow and Aberdeen request signings often.
Going from strength to strength, Ian has been interviewed by Pete Price on Radio City and featured on Local Liverpool TV station, Bay TV, while over 52,000 twitter followers get in touch every day. To connect with fans more, Ian will be speaking at several literary events in 2016, with details to be announced.
Ian D Jackson was born in Liverpool in 1964 and previously worked in magazines and publishing as a features writer. Deadly Determination is published by Percy Publishing, under Clifford Marker Trading Associates Ltd and is an independent publishing house specialising in adult fiction. They are based in Essex and can be contacted via enquiries@percy-publishing.com
Both titles are available to purchase in paperback and in ebook format internationally via Amazon and is available in paperback from selected Waterstones and WHSmith stores as well as many independent bookstores.